Public Maps & Tools
Indicators of Broadband Need Map
The Indicators of Broadband Need map was created by the United States Department of Commerce, National Telecommunications and Information Administration (NTIA). The map uses several different data sources to show information on broadband availability within the United States. Layers in this map were created using data sourced from the American Community Survey collected by the U.S. Census, Ookla, Measurement Lab (M-Lab), Microsoft and the Federal Communications Commission (FCC). In addition, there is a layer in the map that displays the locations of higher education institutions eligible as Minority Serving Institutions (MSIs) under NTIA's Connecting Minority Communities grant program. There is also a layer that shows areas designated as American Indian, Alaska Native and Native Hawaiian Areas by the U.S. Census in 2020. A list of data sources with descriptions can be found by clicking on the information widget in the map as well as instructions on how to download the county, census tract and census block level data used in the map.
Explore the Indicators of Broadband Need Map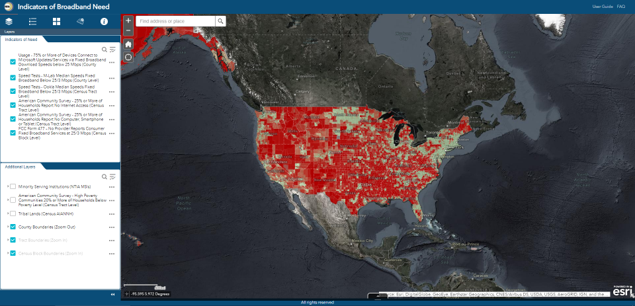 Indicators of Broadband Need - User Guide
Indicators of Broadband Need - FAQs
Indicators of Broadband Need - Demonstration Video
Indicators of Broadband Need - Slides
Connecting Minority Communities Pilot Program - Anchor Community Eligibility Dashboard
The CMC Anchor Community Dashboard is for informational purposes only and is intended solely to assist potential applicants in better understanding the CMC Pilot Program and the requirements set forth in the Final Rule for this program.  The Dashboard does not and is not intended to supersede, modify, or otherwise alter applicable statutory or regulatory requirements, or the specific requirements set forth in the Final Rule and Notice of Funding Opportunity (NOFO).  In all cases, statutory and regulatory mandates, and the requirements set forth in the Final Rule and NOFO, shall prevail over any inconsistencies contained in the Dashboard.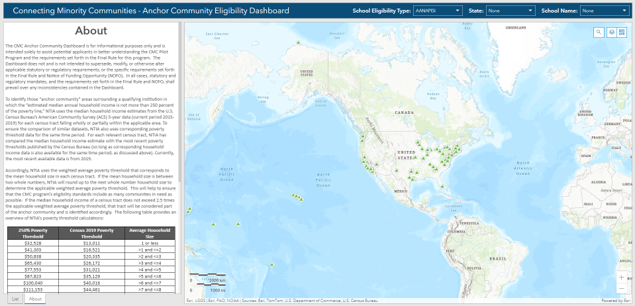 Broadband Availability Data Collection
NTIA is seeking to partner with broadband service providers to collect broadband availability data at a more granular level than that available via the FCC Form 477 process. This data will be used to better assess broadband availability across the country and particularly in rural areas. Specifically, NTIA is seeking sub-Census block geographic information on service availability, such as address, address range, road centerline, land-parcel identification, or latitude/longitude and corresponding broadband availability data (such as service type, upload and download speed, etc.). Please include a completed NBAM Online Data Collection Form with any file uploads and ensure that data complies with the instructions provided in the Data Submission Guidelines document. See the Broadband Availability Data Collection Upload User Guide for detailed instructions. 
National Broadband Availability Map
Background:
NTIA received funding from Congress in 2018 to update the National Broadband Availability Map (NBAM) in coordination with the Federal Communications Commission (FCC). Congress directed NTIA to acquire and utilize data from available third party datasets. NTIA built upon existing partnerships to identify data from federal, state, local and tribal governments, owners and operators of broadband networks, educational institutions, nonprofits, and cooperatives to create the map.
NBAM:
The NBAM is a GIS platform used to visualize and analyze federal, state, and commercial broadband data sets. This includes data from the FCC, U.S. Census Bureau, Universal Service Administrative Company, U.S. Department of Agriculture, U.S. Department of the Treasury, Ookla, Measurement Lab, BroadbandNow, White Star and the state governments. Users, including administrators from 38 participating states, two territories, and six federal agencies, access the NBAM mapping platform and use these data resources to better inform broadband projects and funding decisions in their states. 
NBAM Participating States and Mapping Websites:
Updated Information on Participating States, U.S. Territories, and Federal Agencies:
NTIA's National Broadband Availability Map (NBAM) includes 38 state participants: Alaska, Arizona, California, Colorado, Connecticut, Florida, Georgia, Hawaii, Idaho, Illinois, Indiana, Kansas, Louisiana, Maine, Maryland, Massachusetts, Michigan, Minnesota, Mississippi, Missouri, Montana, Nebraska, Nevada, New Hampshire, New Mexico, New York, North Carolina, Oklahoma, Oregon, South Dakota, Tennessee, Utah, Vermont, Virginia, Washington, West Virginia, Wisconsin, and Wyoming; two U.S. territories: American Samoa and Puerto Rico; as well as six federal agencies: U.S. Department of Agriculture (USDA), U.S. Department of the Treasury, the Bureau of Indian Affairs (BIA), the Economic Development Administration (EDA), Appalachian Regional Commission (ARC), and the Minority Business Development Agency (MBDA).