The Connecting Minority Communities Pilot Program is a $268 million grant program to Historically Black Colleges and Universities (HBCUs), Tribal Colleges and Universities (TCUs), and Minority-Serving Institutions (MSIs) for the purchase of broadband internet access service and eligible equipment or to hire and train information technology personnel.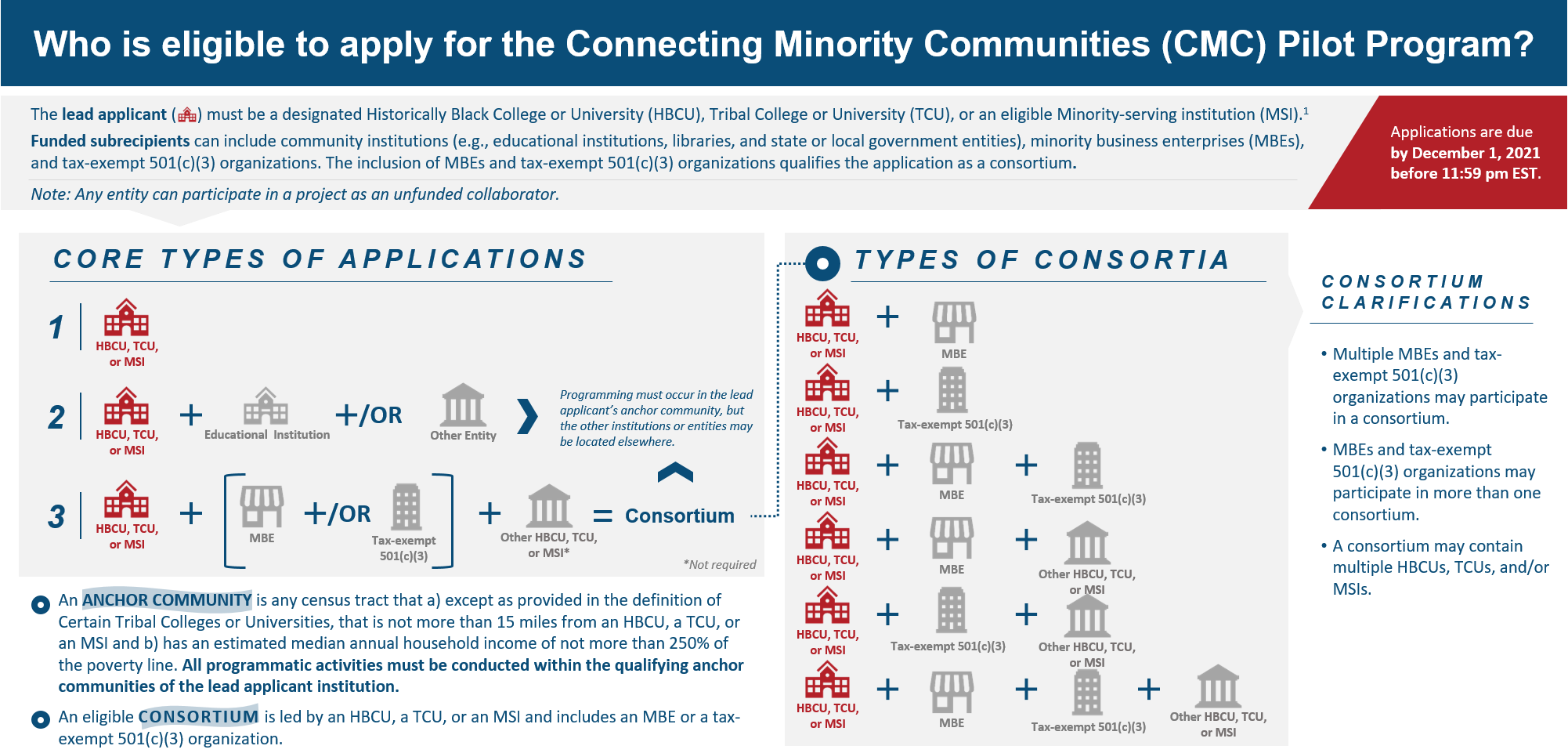 1. The Department of Education defines MSIs as the following: Alaska Native or Native Hawaiian Serving Institutions (ANNHs), Asian American and Native American Pacific Islander Serving Institutions (AANAPISIs), Hispanic Serving Institutions (HSIs), Native American Serving Non-Tribal Institutions (NASNTIs), Predominantly Black Institutions (PBIs). The Eligibility Matrix for MSIs is available at www2.ed.gov/about/offices/list/ope/idues/eligibility.html#tips. A list of eligible HBCUs and TCUs can be found at www.nces.ed.gov/collegenavigator.
Connecting Minority Communities (CMC) Pilot Program - Anchor Community Eligibility Dashboard
The CMC Anchor Community Dashboard is for informational purposes only and is intended solely to assist potential applicants in better understanding the CMC Pilot Program and the requirements set forth in the Final Rule for this program.  The Dashboard does not and is not intended to supersede, modify, or otherwise alter applicable statutory or regulatory requirements, or the specific requirements set forth in the Final Rule and Notice of Funding Opportunity (NOFO).  In all cases, statutory and regulatory mandates, and the requirements set forth in the Final Rule and NOFO, shall prevail over any inconsistencies contained in the Dashboard.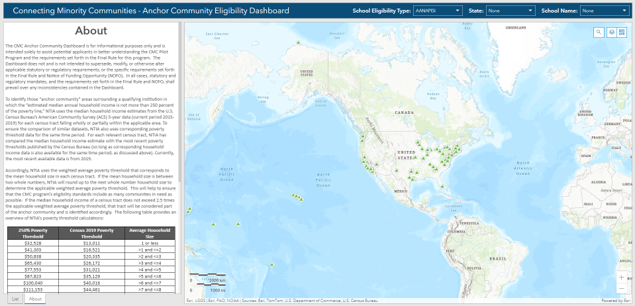 Connecting Minority Communities Pilot Program Webinars
Recordings, transcripts and presentations from past Connecting Minority Communities Pilot Program webinars: